Do you like to send your valued clients & customers a nice holiday message at the end of the year? We sure do! This past December, we decided to highlight our team's unique traditions and tastes with a company cookbook. We collected favorite dishes, drinks, and desserts and compiled them to share with our clients. We got such amazing feedback, we want to share it with you too!
Our two goals with this mailing were to 1. be personal and 2. add value to our clients. (And really, those are our every day goals.) That's why we incorporated something that is universally personal to each one of us – family food traditions – into something useful that showcases our design and print services. We paired it with a cute mini whisk and a box of chocolates to create the perfect tasty package!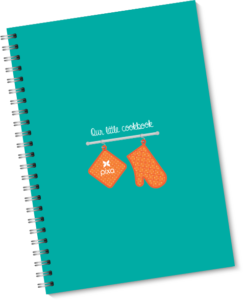 You don't even have to wait for the holidays to show your clients & customers some extra love. What spin could you put on your current services? What company values do you want to highlight?
Maybe you could try one of these:
If you're earth-conscious, send a seed packet for them plant
A custom calendar can keep them thinking of you year-round
Keep them energized with a portable phone charger or coffee sampler
Prove your organization skills with a pop-up paper pen holder (bonus – this can mail flat)
Think outside of the box and toss out some ideas that might not seem conventional. Who knows, your next great idea could be just around the corner.