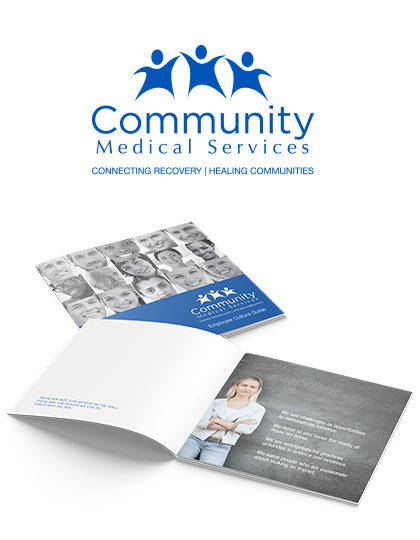 the challenge
Every now and then we get to do work that really matters. Community Medical Services (CMS) is a leading treatment center for those suffering from opiod use disorder. As a growing national organization, they had a need to formalize their brand positioning and refine their marketing message both internally and externally.
our approach
With the CMS leadership team, we developed their Mission, Values and Brand Promise. The goal of this exercise was to focus and align everything from internal practices around hiring, operational considerations to marketing efforts around a single perspective representing the passion for the work they do. By clearly defining those values and speaking in those terms, CMS can grow its audience and ideally create more evangelists in their cause.
the happy-ever-after
One of the most important pieces that came from the branding process was the Culture Manual. This was an internal piece given to each employee to explain the company's values. A printed booklet could carry the message in a tangible and consistent way across many locations. It was critical that each employee feel the importance of the values held by each and every employee at every level. They wanted the values to be more than just "words on the wall" and said as much in the culture manual.
Brand Development | Email Marketing | Marketing Strategy | Print Design | Work